A Strategic Design Feature
The French word 'Allée' refers to the promenade, or main walkway, in formal 17th century gardens or estates that passes through a small wood where the trees meet overhead. This portrait captures the intent of the Cemetery design, where the Allée is a key element for emphasizing the specialized use of the land as a cemetery and creating a note of formality. The Allée is bordered on either side by a row of deciduous and evergreen trees, which, though presently small, will grow quickly in the West Coast climate and help to achieve this goal.
 The Allée is the main walkway in the Cemetery, running lengthwise through the property. It starts in the southeast corner, where a covered gate faces Denman Road and announces the Cemetery. And it ends in the northwest tip of the property, where a smaller gate announces the Cemetery to people walking on Alder Trail in Central Park.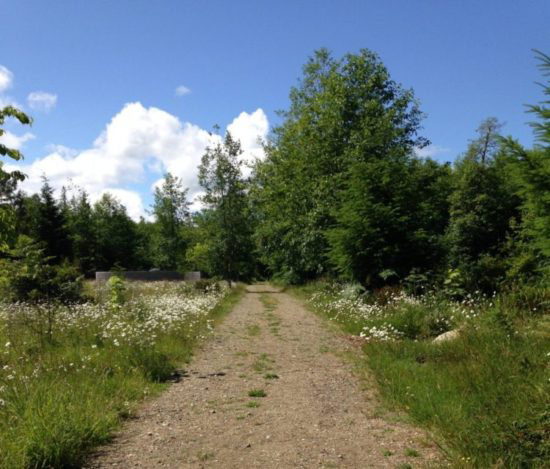 The Allée is well used. Families and friends attending a burial use this walkway to reach the area where the new grave is located. It is also used by visitors wanting to spend time in the Gathering Space or to enjoy the paths in the Scattering Area. People setting out to walk the trail system in Central Park often use this route to access Alder Trail. And, of course, the Allée is used by the deer and other wildlife that frequent the property, though seldom seen by the human eye.
About 100 years ago, the Allée was an active logging road used to transport timber to Village Point, on the west coast of the Island. This heavy use created a firm roadbed that allows all-season use of the Allée. Nevertheless, given the gravel surface, wheelchair use may be problematic. Vehicle use of the Allée is allowed only for Cemetery operations, for which there is a separate access road off North Central Road. Horses are allowed for burial-related ceremonies, but not for recreational purposes.