What You Should Know When You Contact Us
The Denman Island Natural Burial Cemetery is operated by the Denman Island Memorial Society. The role of the Society is limited to services related to the burial of human remains and the scattering of cremated remains. These services include the sale of burial rights, issuing of permits to inter whole body remains or cremated remains, issuing of permits to scatter cremated remains, allotment of burial plots, opening and closing of graves, ordering and installation of memorial plaques, record keeping, and Cemetery maintenance.
Other after-death services are provided elsewhere. Funeral and cremation services may be obtained at nearby centers on Vancouver Island such as Courtenay and Nanaimo. Several Denman Island residents are available to assist families at the time of a death.
Because the services offered by the Cemetery are closely tied to its function as a natural burial ground, they differ in a number of ways from those of a conventional cemetery. As for all cemeteries, however, careful records are kept of the identity and location of all remains that are buried or scattered in the Cemetery.
The procedures for client services follow the DIMS Cemetery Bylaws. Drafted in 2012 to meet the requirements of Consumer Protection BC, these bylaws contain the Rules and Regulations for the Cemetery. In general terms, the bylaws are intended to ensure that Cemetery operations meet the provincial requirements for interment, follow the principles of natural burial, conserve the ecological values of the land and, while meeting these goals, best serve the interests of the community.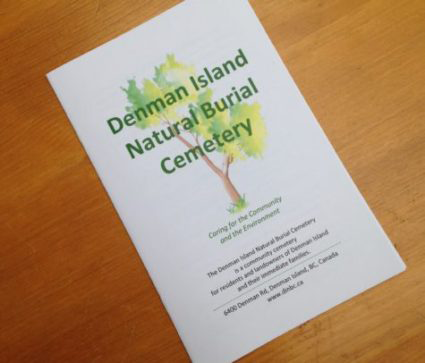 These procedures are summarized in an information booklet prepared for families who want to learn about natural burial and about the DIMS Cemetery. For a summary of the steps to take to arrange a burial in the immediate future, see What to do when someone dies.
Please contact us for any further information that you may need.