The Focal Point of the Cemetery
A key feature of the Cemetery is the shift away from placing granite memorials at individual gravesites. Instead, an assemblage of simple memorial plaques will be displayed in an area removed from the graves. Located in the middle of the Cemetery, the Gathering Space provides for this communal approach. Visitors wanting to spend time in the Cemetery are asked to use this open area and to refrain from walking in the burial sections.
The Gathering Space is easily recognized by two curved, concrete walls that are slightly under 1.5 m (5 ft.) in height. These structures are designed to be attractive, functional and durable. Together, they provide space for approximately one thousand 7.6 x 12.7 cm (3 x 5 in.) bronze plaques that commemorate the lives of persons whose remains are buried in the Cemetery or whose ashes are scattered here. Over time, plaques will be affixed to both sides of the walls, in five horizontal rows running the full length of each wall.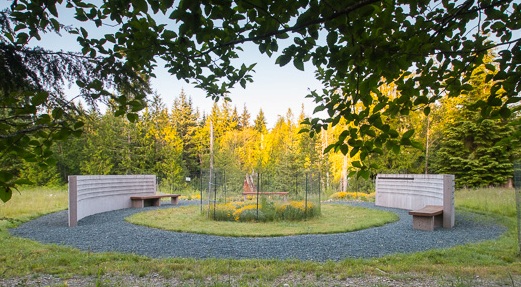 The memorial structures also function to define a space that is intended to attract those visiting the Cemetery. Benches provide seating for about ten people. As a result of plantings done in 2015, four  defined areas within and beyond the curved structures contain small gardens of wildflowers,  grasses and shrubs that are native to the Garry Oak ecosystem. They also includes a number of Garry oak trees. Fencing around the gardens will be removed once the trees are able to withstand  the native deer population.
The Gathering Space may be used for small ceremonies and family gatherings, and is also suitable for individuals wishing to enjoy a period of quiet contemplation. As well as these practical functions, the Gathering Space serves to emphasize the sanctity of the Cemetery land by means of the prominent design of the memorial structures and the distinctive vegetation. As the coniferous forest regenerates over time, in both the burial areas and the surrounding land comprising Central Park, the Gathering Space will stand out, highlighting the use of this land as a cemetery.