Communal Memorialization
The Gathering Space is a unique feature of the Denman Island Natural Burial Ground. Two curved walls define the area. The walls display small metal plaques that commemorate the lives of persons whose remains are buried in the Cemetery or whose ashes are in the Scattering Area. This form of communal memorialization replaces the tombstones and other gravesite markers found in traditional cemeteries.
As the operator of the Cemetery, the Denman Island Memorial Society (DIMS) orders the memorial plaque for the family and arranges for it to be affixed to one or other of the memorial structures. The plaque is 12.7 cm x 6.7 cm (5 in. x 3 in.) and is made of bronze. The engraved information provides the full name of the deceased, the date of their birth, the date of their death and, if desired, a short inscription of about 70 characters.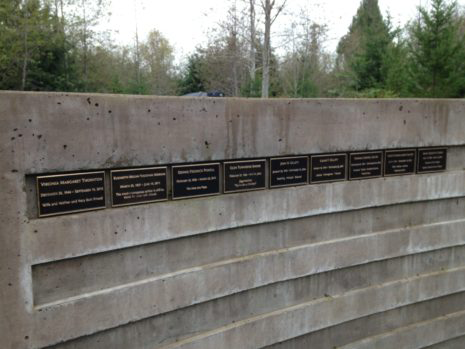 The Cemetery Manager (or a DIMS Board member) will work closely with the family to ensure that the inscription is correct before placing the order. A plaque is used to record every burial, but its use for scattered ashes is optional. DIMS is responsible for seeing that the plaques are affixed properly and that the integrity of memorial structures is maintained over time.