A Multi-Faceted Undertaking
For any small community, the process of establishing a new cemetery is a demanding project. The Board of Directors of the Denman Island Memorial Society began by defining and scheduling the various tasks needed to meet the regulatory requirements, design the Cemetery, and raise the money needed for the project. Follow this link to hear about the planning process. Between 2009 and 2015, the Board completed the following steps:
Phase One
Confirmed the earlier decision that the new cemetery be a natural burial ground.
Obtained a preliminary geotechnical assessment of the land, which indicated that it was suitable for a cemetery.
Obtained assistance from the Community Studio to create a design for the Cemetery, working closely with the islanders by way of two community workshops and articles in the local newspaper.
Applied successfully to the BC Agricultural Land Commission to exclude the Cemetery land from the Agricultural Land Reserve.
Completed a survey of the boundaries of the new parcel of land.
Applied successfully to the local government (the Islands Trust ) to rezone the land from 'Agriculture' to 'Institutional.'
Applied successfully to the BC Ministry of Transportation and Infrastructure to subdivide Central Park to create a one-hectare lot for the Cemetery.
Applied successfully to BC Assessment for property tax exemption.
With the Board of the Denman Conservancy Association (DCA), finalized the terms of the Conservation Covenant.
Presented the required documents to BC Land Title and Survey and achieved ownership of the land on January 23, 2013, registering the Conservation Covenant on title at that time.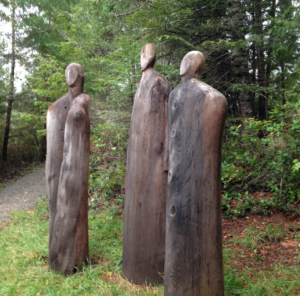 Phase Two
Carried out a full geotechnical assessment of the land.
Applied successfully to Consumer Protection BC for a Certificate of Public Interest.
With the DCA Board, adopted the first Management Plan in 2013, detailing plans for developing and managing the land. The plan was updated in 2018.
Drafted and adopted Rules and Regulations for the Cemetery, which became the DIMS Cemetery Bylaws.
Constructed an access road for vehicular use.
Removed the trees and prepared the land intended for public use and the land intended for burials for the next 30 to 40 years, following the stipulations of the Management Plan 2013 – 2018.
Prepared the main walkway traversing the Cemetery and paths within the area intended for scattering ashes.
Built the memorial structures in the area intended for public use and the gates at the south and north pedestrian entrances and at the vehicular entrance.
Applied successfully to Consumer Protection BC for an Operator's License.
Created material for the Internet as well as an information booklet.
Designed and constructed signs to indicate that the land is a cemetery and to elicit visitor cooperation.
Created systems for record keeping and for the administration of Cemetery operations.
 Cemetery Opening
The official opening ceremony for the Denman Island Natural Burial Cemetery was held on October 11, 2015.
Maxine, Margaret, and Susan-Marie serve refreshments at the Cemetery opening