Woolly sunflower (Eriophyllum lanatum) is one of the early spring flowers found in areas supporting Garry oak ecosystems. And it's blooming now in the Garry oak garden in the Gathering Space of the Cemetery, along with several other forbs and flowering shrubs, including the beautiful red-flowering current (Ribes sanguineum), which also heralds the advent of warmer weather. Also included in the garden  are 18 Garry oak trees, the flagship of the ecosystem, which are intended, in time, to add visual interest and welcome shade.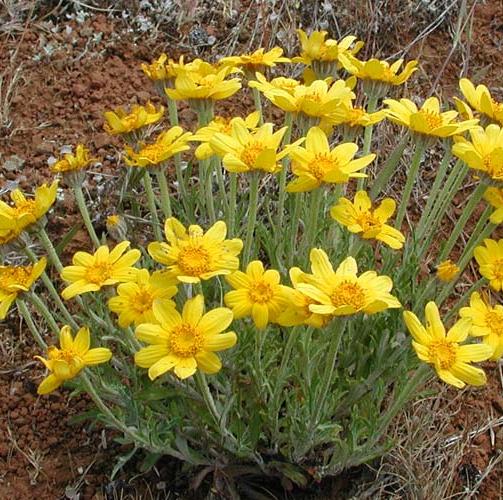 Denman Island falls within the Coastal Douglas-fir biogeoclimatic zone, a small region on east Vancouver Island and the Gulf Islands, where encroaching development and agriculture threaten rare plant communities found nowhere else in Canada. Garry oak ecosystems form part of this zone. Today, less than 5% of these ecosystems remain in a near-natural state, and over 100 flora and fauna typical of Garry oak ecosystems are classified as 'species at risk.' The long-term goal for the Garry oak garden is to encourage the return of this vegetation, which once was native to this area.
The garden was made possible by the generous support of the Toronto Dominion Friends of the Environment Foundation. Shrubs, forbs and grasses were chosen on the advice of a board member of the Garry Oak Ecosystem Recovery Team, and were planted by island volunteers, who continue to provide ongoing plant care. Wildlife fencing was erected early on by other volunteers, and will be needed until the trees are tall enough to survive the native black tailed deer which are common visitors to the area.